Basic chemicals production causes high levels of greenhouse gas emissions
Chemical products are found everywhere in our modern lives. From fertilisers on our fields to lightweight construction materials in the cars: countless value chains are set in motion by the energy-intensive production of a small number of basic chemicals, whose subsequent products are then used in a huge variety of applications.
The production of basic chemicals involves energy- and resource-intensive processes that emit approx. 37 million t CO2 equivalents every year. This figure makes up around two-thirds of the greenhouse gas emissions for the entire chemicals/pharmaceuticals sector and around 19 percent of total industrial emissions in Germany.
The following basic materials create especially high levels of greenhouse gas emissions during production:
Ethylene and propylene, and the aromatics benzene, toluene and xylene
Methanol
Ammonia
Chlorine
Carbon black
New methods and renewable raw materials for climate-neutral production
Despite increasing overall production volumes, the chemicals industry in Germany has already cut its greenhouse gas emissions by 48 percent from 1990 to 2017. To achieve the goal of greenhouse gas neutrality, however, new production methods must now be implemented and renewable sources of raw materials must be developed. Some of the most important measures that help to avoid CO2 emissions include:
transitioning hydrogen production to electrolysis;
closed-loop management of carbon (using techniques such as chemical recycling, carbon capture and utilisation (CCU)); and
electrification of process heat generation (e.g. electrically heated steam crackers).
Greenhouse gas-neutral production needs a lot of renewable energy
Most of the technologies needed for a greenhouse gas-neutral chemicals industry are well-known and are the focus of widespread research efforts. To ensure their broad-based deployment, however, very large quantities of inexpensive renewable energy are required. This is particularly true for technologies that make use of CO2 and green hydrogen as feedstocks for chemical products.
Additional infrastructure and cooperation between many industries will also be neededin an increasingly greenhouse gas-neutral world, since CO2 must be transported from its remaining sources to the chemical production plants.
Real-world examples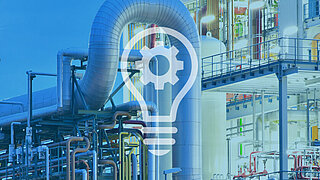 ICO2Chem, a research project from the EU's Horizon 2020 programme, aims to utilise industrial CO2 streams for the production of long-chain hydrocarbons (oils and waxes). These materials are used in coatings, for examples. German project members include the Provadis School of International Management and Technology, Infraserv Höchst, INERATEC and ALTANA.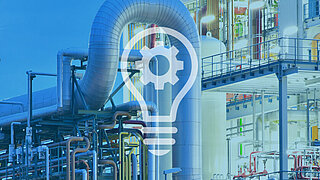 BASF is using the ChemCycling project to advance the chemical recycling of plastic waste. The pyrolysis of plastics that cannot be mechanically recycled can be used to produce a type of crude oil. This oil can then be reused at the start of the value chain and therefore reduce the consumption of fossil feedstocks.